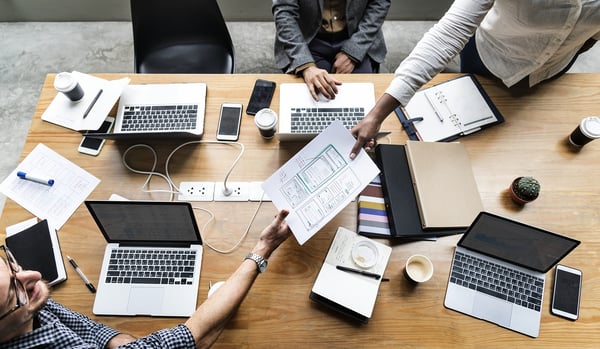 Ahead of the Chief Data & Analytics Officer (CDAO) New Zealand, we caught up with Mike Congdon, Head of Enterprise Information Management at New Zealand Post. We discuss the key challenges faced by NZ Post in their transformation journey, the importance of real-time data in an organisation, how organisations can reach a purpose-driven data landscape and much more!
What were the key aims of your transformation journey?
The ultimate objective would be to fully instil a data driven culture within the organisation. Most contemporary organisations are striving to be data driven, however im not sure that the journey to get there is very well understood. The strategic roadmap that we've put in place focuses on the development of the core components that underpin a data driven culture.
What were the key challenges from the outset?
Getting senior level business support is core to the successful implementation of any Data & Analytics (D&A) programme. In contemporary times, D&A is no longer just an IT thing, it's increasingly becoming a business lead function. So, it's crucial to get that support from senior business leaders who can help overcome roadblocks and champion what you're trying to achieve. Another reason why it's a challenge getting that senior level support is around costs. Obviously, a lot of initiatives in the D&A space will involve funding to do various things, whether it be to progress technology transformation projects or build D&A solutions. The trick here is to earn the trust and confidence of those who hold the purse strings, and the best way to do that is to demonstrate that you've put a lot of thinking into your programme which is backed up by a well-rounded D&A strategy.
Having the right roles and skills within the D&A team. It's one thing to come up with a fantastic, compelling D&A strategy, but it's almost worthless if you don't have the right resources to bring said to life. There are often areas in D&A teams that are more overlooked than others, one of which is governance and standards. In my career, I've found that for governance and standards, which should underpin a D&A programme, to be given the attention that it deserves you really need to have devoted resource to that area, otherwise, if you don't the team is going to be too busy tending to more immediate customer needs and requirements. As everyone in the D&A industry knows, end users are a lot more interested in getting their flashy dashboard than they are in your DAMA DMBoK endeavours. Also, with respect to skills, often in organisations D&A teams will include self-trained individuals who may not necessarily have contemporary, recognised or certified skills, which can be a real 'buy or build' conundrum – aka, fill skill gaps by recruiting from the market or take a punt on being able to upskill internal staff some of which may be reluctant to change their ways.
The last challenge relates to silos. Reporting and analytics silos throughout the organisation that are producing reports and analytics that is conflicting with what is being provided by the centralised D&A team. There's a challenge in getting those people, who are not in the centralised D&A team, on board with the D&A programme so that there is a much more collaborative relationship that doesn't involve confusing senior business leaders with inconsistent data, analytics and reporting.
What is the importance of near real-time data in your organisation?
We use near real-time data for operational reporting and it's critical for our operational analysts and managers for day to day decision making. For more strategic reporting, on KPI's etc, we defer to a monthly view with weekly updates.
What organisational changes have to happen in order to reach a purpose driven data landscape?Getting back to my pervious comments on data driven organisations and cultures, getting that purpose driven data landscape falls back to having those key traits of a proper data driven organisation. Essentially, it's a series of steps. The first of which is ensuring that there is one clear consolidated source of data for business users, rather than siloed, less transparent, pockets of data across the organisation. Then ensuring that said data is accessible, so that data is not just something programmers can access because they can code queries over a data warehouse. It needs to be accessible across the business, be it in the form of user friendly data self-service / visualisation tools so that you are really enabling that easy enterprise access to data. Following on from that, ensuring proper metadata, data dictionaries and glossaries are in place, so that when a business user is using any data they can fully understand the life-cycle of that data, in terms of what system it originated from, what business rules have been applied to it and where it ultimately ended up – in the data warehouse, the reporting layer, analytical tool or wherever else. The last step is around ensuring the data literacy of all staff. This is really about people looking at data and being able to fundamentally understand it, the metrics, things like what's a mean, a range, a standard deviation. People need to be confident using data presentation tools, drilling down and interacting with the widgets they see on screen. Also, can people contextualise what they are seeing in a data visualisation, for example, they might be looking at a trend line for revenue growth of a product over time and see a spike in the trend line, are they able to understand why that spike occurred and link it back to what the business may have done recently in the market to cause the spike. Could they then be confident enough to propose a business action based on the data. If you wrap all of that up, and get all of that right, you're well on your way to having that purpose data driven culture.
In the race to become a data driven enterprise, what are the key corporate policies that have to change in order to achieve the desired ecosystem outcomes?
The main issue, in terms of policies, is around data privacy and protection. Over the last few months, particularly with GDPR, it's been quite a big issue for organisations. What I've noticed is, because of GDPR, a lot of organisations are tightening things up from a data privacy/protection perspective. It's a bit of a juggling act because on one side, you want to ensure the privacy and protection of customer data, and mitigate any risk from a compliance stand point. But on the flip side, to get that data driven culture, you need to be opening up access to data, and the issue arises as both of those things are conflicting. At New Zealand Post, we want to do both, on one side, open up access to data (for our internal employees), but at the same time, we want to make sure that the privacy of our customer data is front of mind at all times.
What are your top issues standing in the way of architectural and data sharing innovation?
Again, I'd have to put that down to data privacy/protection issues. With all the recent discussion around data sharing, how we use data and how we monetise data, it all seems to lead back to data privacy/protection. In some ways, it feels like a roadblock, but really, it's just something we've got to give a lot more attention to, as we try to work out how we achieve what we want to do with our data, but at the same time, ensuring that privacy & protection risks are mitigated.
About:

Mike Congdon, Head of Enterprise Information Management at New Zealand Post.
Join Mike as he makes his presentation at the upcoming CDAO New Zealand, taking place on the 7-8 November 2018.