CDAO auckland
onsite information
WIFI
To access wi-fi onsite, please use the below details.
Connect to "Millennium" or "Millennium Conference". Click the green button that reads "Connect".
*If a splash page does not appear, sometimes it helps to open your devices default browser for this to pop up.
SLIDO
To ask question directly to the speakers during their session please log into slido.
Parking Entrance
Located right next to the Grand Millennium Auckland Hotel (on Mayoral Drive), is the Grand Millennium hotel carpark, as your vehicle approaches the barrier it will register your License Plate and the Barrier arm will open.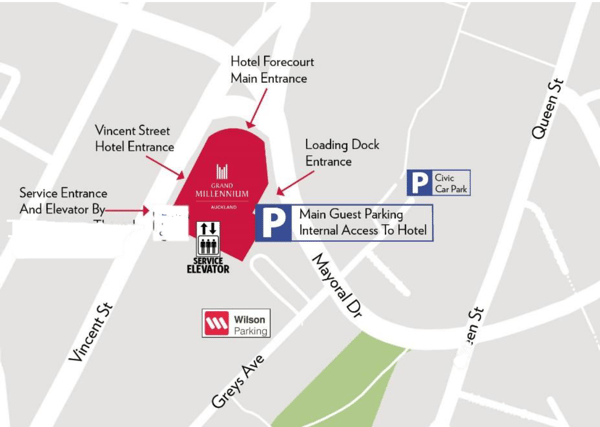 Standard Parking Rates
Parking Rates start from $5.00 per Hour to a maximum of $25.00 per 24-hours

General Parking Spaces
All carparks are first in first served *Subject to availability*. Guests may park in any available carpark that does not have a reserved carpark sign displayed.

Paying for Parking
Vehicle owners can apply a debit or Credit Card to their vehicles license plate at the onsite kiosk, Online Kiosk or Mobile Parking App anytime when their vehicle is in the carpark building or on exit.

Online Kiosk
Scan the 'Online Kiosk' QR code or visit parkgrandmillennium.co.nz
when your vehicle is in the carpark, Select Pay by Plate
entering the vehicles number plate.

Mobile App
The Mobile App offers an exclusive App only discount for $19.50 per day, guests will create an account on the mobile app, follow in app instructions for registration & payment. Please scan QR Code(s) below to download.

Onsite Kiosk
We have an onsite payment kiosk located off the hotel lobby towards the carpark, similar to the online kiosk here you will enter your number plate.